Pay It Forward: Helping Hands
Dayton Daily News, Moment of need inspired Helping Hands project
March, 2009, By Meredith Moss, Staff Writer
CENTERVILLE — Some folks create their own volunteer job by finding a need and filling it. That's exactly how Helping Hands got its start. When Leslie Cayot's son, Nathan, was only 30 days old, he was rushed by life squad to Children's Medical Center. All she and her husband had with them at the time was a diaper bag, a purse and a wallet.
"I wanted to do something — perhaps out of gratitude or just relief that Nathan was OK," says the Centerville mom who read about a charity on the Web that inspired her. With the help of her friends in the Dayton Mothers of Twins Club, in September 2007, Helping Hands delivered its first 100 care kits to Miami Valley and Children's hospitals. The group now delivers 1,500 kits a year.
The project provides personal care items to parents of children in long-term critical care that help get them through the first hours of an emergency overnight stay. Included are such items as toothpaste, deodorant, a pen, even a $5 certificate to the hospital cafeteria. Cayot says it's easy to be so overwhelmed by the need for help in this world that you may feel you can't make a difference. The key, she believes, is finding your passion.
"For me, my passion came as a result of a tiny miracle," she says. "Three years ago I held my small miracle in my arms, crying over the relief that he was going to be OK, and from there my passion was born."
Helping Hands is in the process of becoming a designated 501(c)(3) nonprofit group, so Cayot says she needs help with everything from updating the Web site and fundraising to legal and tax advice. While she realizes she can't make everything better, Cayot believes she can still be of help. "No matter how small my contribution is today," she says, " tomorrow it can grow."
November, 2008 – Earlier this month KAO brands of Cincinnati made a very generous donation to support our club's project. They donated 400 travel sized deodorants that will carry our program well into 2009. They also donated 34 boxes of shampoo and conditioner and 80 boxes of hand lotion. There is enough shampoo, conditioner and hand lotion to deliver kits to 1,200 families at local Miami Valley Hospitals for the next four years! The total value of their donation to DMOTC is worth over fourteen thousand dollars. This is an amazing display of generosity and support for our local community and shows how lucky we are to have a company like KAO located here in Southwest Ohio.
October, 2008 – NCR Employees attending the BRG picnic assembled 150 Care Kits, which is equivalent to half of the kits targeted by Helping Hands for delivery each quarter.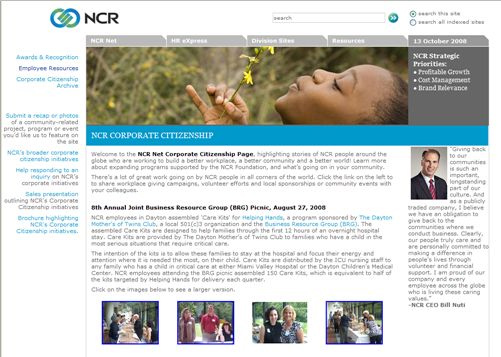 July, 2008 – We have so much to celebrate with Helping Hands these past couple months.  First of all, we were awarded $3612 from Reynolds and Reynolds!  Helping Hands was chosen to benefit from their Care Days where employees pay $2 to wear blue jeans on Friday.  The money raised is donated to a charity.  With this in hand, along with a $1500 grant from Kroger, we were able to assemble 300 more Care Kits to be delivered to Children's and Miami Valley Hospital.